About OFILM Group
OFILM Group Co.,LTD. was founded in Shenzhen China, in 2001 with a registered capital of 460 million RMB, total factory area of 346,000m2 and more than 40,000 employees.
OFILM is dedicated to the information device industry, focusing on research and development, manufacturing and marketing, and has been increasing its sales steadily in areas such as touch screen panels and compact camera modules.
OFILM has acquired various certificates including ISO9001 in 2004, ISO14000 in 2008, SONY Green Partner certification in 2009, Samsung Eco Partener certification in 2011.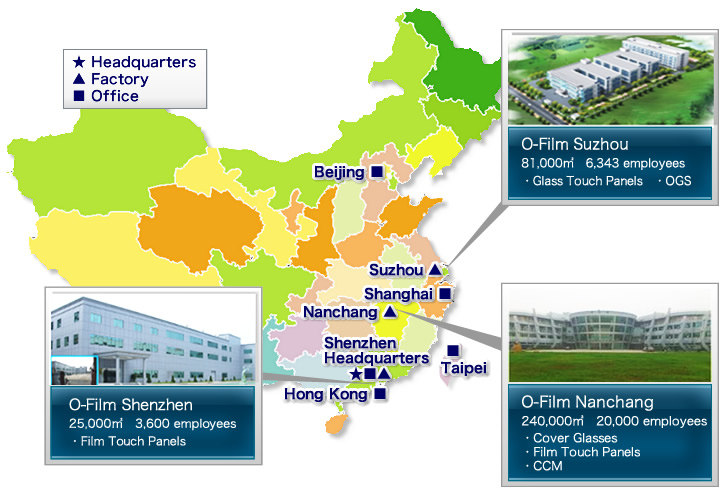 | | | |
| --- | --- | --- |
| | | CCM clean room |
R&D Center
Focusing on trends of image processing technology development around the world
Japan R&D Center: Cutting edge technology for main parts of CCM
Taiwan R&D Center: Improvement of CCM manufacturing process technologies.
Nanchang Factory: Production and manufacturing of CCM products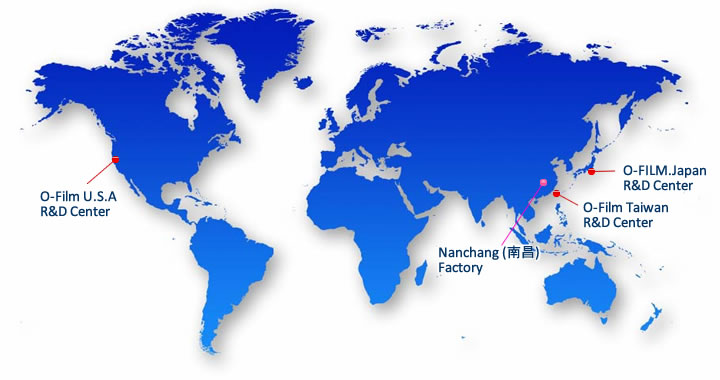 Offices and Factoriess
OFILM Tech(欧菲光科技股份有限公司)
OFILM Tech. Co., Ltd. (Shenzhen)
深圳市公明街道松白公路欧菲光科技园(中国広東省)
OFILM Tech Park, Songbai Road. Gongming Town,
Shenzhen, Guangdong, China

OFILM Suzhou(苏州欧菲光科技有限公司)
OFILM Tech. Co., Ltd. (Suzhou)
苏州市相城区黄埭镇康阳路233号(中国江蘇省)
#233, Kangyang Road, Huangdai Town, Xiang cheng District,
Suzhou, Jiangsu, China

OFILM Nanchang (南昌欧菲光科技有限公司)
OFILM Optical Tech Co., Ltd. (Nanchang)
南昌市昌北经济开发区黄家湖西路欧菲光科技园(中国江西省)
OFILM Tech Park, Huangjiahu West Road, Changbei Economic and Technological
Development Zone, Nanchang, Jiangxi, China

OFILM GLOBAL Hong Kong (欧菲光科技(香港)有限公司)
OFILM Global (HK) Trading Limited
Workshop No. 1 20/F, Ew International Tower,
No.120, Texaco Road, Tsuen Wan, NT, HONG KONG
OFILM Taiwan(台灣欧菲光科技有限公司)
Taiwan OFILM Tech. Co., Ltd.
台灣省台北市内湖區瑞光路408號8樓(台湾)
8F., No.408, Ruiguang Rd., Neihu Dist., Taipei City 114, TAIWAN (R.O.C.)
OFILM Korea(欧菲光韩国株式会社)
OFILM Korea Co., Ltd.
#B-1307, Digital Empire 1, 980-3, Yeongtong-Dong,
Yeongtong-Gu, Suwon-Si, Gyeonggi-Do, KOREA

OFILM.Japan
OFILM.Japan Co., Ltd.
〒104-0045 東京都中央区築地1-12-22コンワビル6F
Konwa Bldg. 6F, 1-12-22 Tsukiji, Chuo-ku, Tokyo 104-0045, Japan